How - Outdoor
How to Choose a Hydration Pack for Hiking (Quote from ASTLmall Blogs)
Lead: The hydration pack is mainly used to transport water and make drinking convenient and effective, in fact with most hydration packs, you don't have to stop, or even slow down, to take a sip of water, you just grab the drink attached to the attached water tank Tube. This article will show you how to choose a hydration pack before your hike to prepare you for your hike.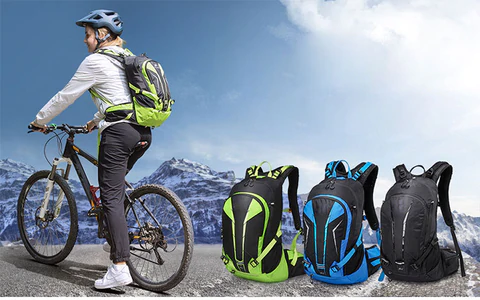 Types of hydration packs: There are two general types of hydration packs: hydration backpacks and hydration fanny packs. Within these groups, there are bags made specifically for different outdoor activities, including hiking, running, mountain biking, biking, skiing, and snowboarding, and the common feature of nearly all of these products is the included hydration container that makes drinking Easier, small packs include water bottles instead of tanks.
Hiking Hydration Backpacks: These packs are very similar to standard packs for hiking, often with plenty of room for food, extra layers and the top ten items you should carry on each outing, and they range in size from small bags for short hikes to ultra-large enough Light overnight.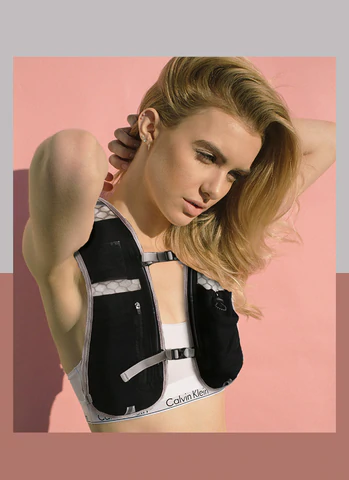 Cycling Hydration Backpacks: These packs are designed for road and mountain biking, those designed for the road are generally compact and low profile, so they feel light and stable on the back and don't create a ton of wind resistance. Packages designed for mountain bikes are usually larger to accommodate extra gear, clothing, and bike tools. All cycling hydration packs usually have a low-profile waistband that doesn't get in the way of your pedaling.
Running Hydration Pack: This one is designed for running, and while shopping, you'll notice that some are called running vests and others are backpacks, and the lines between the two are sometimes blurred. Running Tanks: As you might expect, they look like a tank top and are designed to fit your body. They are similar to backpacks in that they are carried over and over the shoulder, but they have a slightly lower profile, have more pockets in the front of the shoulder straps, and don't have a waistband like most backpacks do. Many include dedicated spots for storing water bottles in front of the shoulder straps, and most vests also offer a hydrating reservoir for runners who like to sip from their tubes.
Running Backpacks: These are much like backpacks that you can hike throughout the day, but have running-specific features like a low-profile design, simple waist belt, and a bunch of pockets for easy access while you're running. They sometimes offer more storage space than vests, making them ideal for long runs that require a lot of extra food and clothing. Almost every running pack can hold a hydration container for easy sipping on the go. Many also include shoulder straps or side pockets if you prefer to use a water bottle.
Snowsport Hydration Pack: Designed for activities like skiing and snowboarding, the Snowsport Hydration Pack is winterized to help prevent the water supply from freezing. This means that the reservoir and drink tube are usually insulated and sometimes have a snap valve cover. Some snowsports-specific packages include eyelash points or carrying straps to allow for hands-free transportation of skis or snowboards.
Hydration Waist Packs: As the name suggests, these wrap around the waist. Many of these include water bottles instead of water reservoirs, and there's less cargo space than most packages. A fanny pack is great for brisk adventures like hiking, cross-country skiing, or cross-country skiing, where you don't need to carry a lot of gear and you don't want your movement hindered by a larger pack.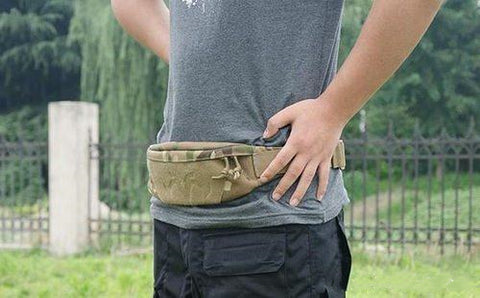 Make sure the hydration you choose can carry enough water and gear to meet your needs. A liter of water weighs about 1.8 pounds, so think about how much you really need to carry and whether you can replenish along the way, and then buy a package that matches that water. Of course, you don't have to fill up the reservoir on every outing, and to reduce the weight of your excursions, bring the amount of water you expect to need. For example with a 3-liter reservoir, you can fill it halfway for quick hikes, or longer expeditions in hot climates.
Here are some things to do with reservoir capacity: 0.5 liters or less: The package with the smallest water capacity is usually a fanny pack and includes one or two water bottles. They're best for lightweight pursuits like running or walking. 1L or 1.5L: A good choice for minimalists, kids and short bike commuters, hikers and runners. 2 liters or 2.5 liters: These popular tank sizes provide a good balance of reasonable weight and volume, while providing a sufficient amount of water to require only occasional refills in most cases. 3 liters or more: For the most eager adventurers or those who don't want to stop refilling, they're also useful for those exploring water-starved terrain.
Hydration Pack Gear Capacity: Hydration pack gear capacities range from less than 5 liters to about 50 liters, to figure out how much space you'll need, double-check the gear you're carrying. Can the packaging hold your favorite jacket? Does it provide enough room for snacks during your travel time?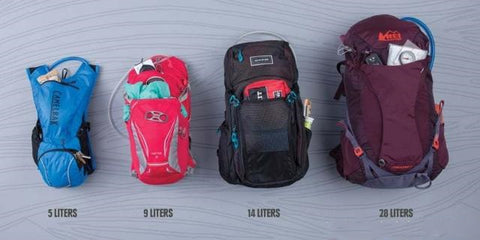 Here are some notes on gear capacity: 5 liters or less: Most of these small packs are designed for light pursuits like running, road cycling, and ultralight hiking. Their compact and low-profile design provides room for only a few essentials, like an extra layer, some energy bars, and keys. 6 liters 10 liters: Lots of packs in this range are designed for mountain biking or trail running. They have enough room to easily accommodate an extra layer or two, food for the day and a camera.
11 liters to 20 liters: These medium bags are typically used for hiking, mountain biking or trail running and feature extra pockets to keep organized. Their larger capacity allows you to carry enough clothes, food, emergency equipment and extra gear for longer explorations 21 liters or more: Any hydration pack over 21 liters is typically used for hiking. They have enough cargo room and comfort and load support to perform well on long trips. Some are even big enough for a brisk overnight adventure.
Once you've figured out the type and capacity of hydration pack you want, it's time to make sure it's right for you. The right fit offers: sized to fit your torso length (not your overall height); snug fit to the hips (if the pack doesn't have a belt, just wear torso length). Some packs come in a variety of sizes, from small to large, to fit a variety of torso lengths, and these ranges vary by manufacturer and gender. Other packages have adjustable suspension that can be modified to fit your torso. This is useful if you use the middle size a lot.
Hydration pack waistbands typically fit a wide range of hip sizes, from 50cm to 1m or larger, you can find this measurement on the product specs label. Some packs have belts and shoulder straps that are contoured to the female shape, and torso measurements are usually shorter and narrower than men's packs. Because of their smaller size, women's backpacks tend to suit younger gender backpackers. Bags aimed at teens usually offer a smaller capacity and include adjustable suspension to accommodate children's growth, you can also try a women's backpack or a smaller size men's backpack.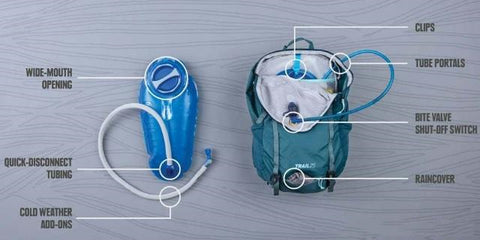 Hydration Pack Features: Bite Valve Off Switch: Some bite valves twist on and off; others have a switch to make sure you don't want the water to come out. Pipe Entry: This is a slit in the pack that allows you to pass a straw from the reservoir inside the pack to the outside. Many bags offer two portals so you can position the tube on either shoulder, and some offer a single person. Clips: Many hydration bags include clips on the shoulder straps to keep your tubes positioned for easy access. Quick Disconnect Line: Some reservoirs include a drinking water line that is easily disconnected from the body of the reservoir, which is nice when the reservoir needs to be refilled. Disconnect the tube at the touch of a button and remove the reservoir from the packaging. This allows you to leave the pipe in place, which is especially handy if you run the pipe through the pipe entry.
Wide Mouth Opening: Wide mouth opening usually allows you to put your hands inside the tank, which makes cleaning easier. If you choose a reservoir with a smaller opening, you can purchase a cleaning kit that includes a brush for scrubbing the inside. Cold Weather Add-ons: Offers a variety of winter add-ons including insulated sip tubes, insulated tanks, reservoir covers and snap-in valve covers. They can be convenient, but they add a little bulk and weight to your system. Rain Cover: A rain cover is a great add-on if you're recreating in all types of weather.
Here are some tips on choosing a hydration pack for your hiking trip, hopefully it will help you.